دوا ليبا ستشارك في حفل افتتاح المباراة النهائية في كييف
بيرتشاس، نيويورك، 8 أيار/مايو، 2018 / بي آر نيوزواير / — أعلن الاتحاد الأوروبي لكرة القدم وبيبسي أن دوا ليبا  UEFA and Pepsi® have announced Dua Lipa  ستكون الفنانة الموسيقية التي ستحيي حفل افتتاح المباراة النهائية لأبطال الاتحاد الأوروبي لكرة القدم 2018 الذي تقيمه بيبسي. مغنية "نيو رولز" الفائزة على عدة جوائز فنية ستشارك في هذه الحفلة لمساعدة مشجعي هذه المباريات في كل ركن من أركان العالم على الاحتفال بعشقهم لكرة القدم وبناء الترقب قبل بدء الحفل الرياضي العالمي الأكثر مشاهدة في كييف بأوكرانيا يوم السبت، 26 أيار/مايو.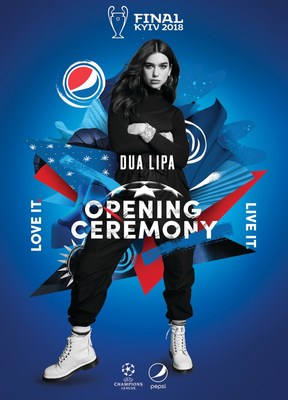 وفي عامها الثالث لحفل افتتاح المباراة النهائية لـ "دوري أبطال أوروبا للاتحاد الأوروبي لكرة القدم" الذي تقدمه بيبسي، ستتصدر دوا ليبا مسرحا عالميا حقاً حيث تلتحم عوالم الموسيقى والترفيه والرياضة معا لتزويد المعجبين بتجربة لا تُنسى – سواء كانوا في الملعب أو يشاهدون المباريات في المنزل. وستقدم دوا ليبا، التي تتمتع بالرقم القياسي لأصغر الفنانات المنفردات التي تصل مشاهدات أداءاتها إلى 1 مليار مشاهدة على يوتيوب، وهي حاليًا أعلى فنانة يتم بث أغانيها على الإنترنت في العالم على سبوتفاي، أبرز أغانيها من أحدث ألبوماتها، بما في ذلك IDGAF و New Rules التي حازت على التصنيف البلاتيني في 18 بلدا. وقد تم بيع أكثر من 2.2 مليون نسخة و 17 مليون أغنية منفردة من ألبوم هذه الفنانة النجمة عالميا في جميع أنحاء العالم.
وقالت دوا ليبا: "لقد تشرفت بطلب الاتحاد الأوروبي لكرة القدم وبيبسي للمشاركة في حفل الافتتاح للمباراة النهائية لبطولة دوري أبطال أوروبا الاتحاد الأوروبي لكرة القدم – إنها فرصة العمر. لا استطيع الانتظار لأقف أمام الجماهير وأكون جزءا من هذا الحدث المثير – أعتزم تقديم عرض لا ينسى"!
وستقام المباراة النهائية لهذا العام على ملعب أن أس سي أوليمبيسكي في كييف يوم السبت 26 أيار/مايو، وسيجري عرضها في أكثر من 220 دولة ومنطقة حول العالم.
وقالت ناتاليا  فليبوسيانتس، كبيرة مديري التسويق، العلامة التجارية العالمية بيبسي، مجموعة المشروبات العالمية، بيبسي كو، "تود بيبسي، وهي علامة تجارية متجذرة في كل من الموسيقى وكرة القدم، الاحتفال بشغف وعشق مشجعي الكرة وإتاحة الفرصة لهم بأن يعيشوا اللعبة كما لم يحدث من قبل. وإن جلب واحدة من أهم نجوم الموسيقى إلى واحد من أكبر الأحداث الرياضية في العالم سوف يحقق ذلك بالضبط. إن دوا ليبا فنانة موسيقية هائلة، ونحن متحمسون لها لجعل الجميع يقفون على أقدامهم قبيل هذه اللحظة العالمية المثيرة للعبة التي نحبها جميعًا ونعيش من أجلها".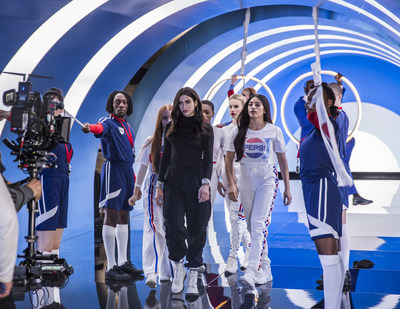 وإلى جانب رعايتها المستمرة لبطولة دوري أبطال أوروبا للاتحاد الأوروبي لكرة القدم، أطلقت شركة بيبسي العالمية حملة "أحبها. عشها. كرة القدم" التي تشارك فيها مجموعة عالمية من لاعبي كرة القدم العالميين: ليو ميسي ومارسيلو وتوني كروس وكارلي لويد وديلي علي. وتربط هذه الحملة العالمية الفن والرياضة معا، لإضفاء الحيوية على اللعبة الجميلة – داخل وخارج الملعب – وتتضمن إعلانا تجاريا تلفزيونيا عالميا جديدا new global TV commercial وتصميمات مخصصة من قبل فنانين من بلد موطن كل لاعب.
وعلق غاي لوران إيبستين، مدير التسويق لفعاليات الاتحاد الأوروبي لكرة القدم لجنوب آسيا قائلاً: "نحن مسرورون للغاية للتعاون مع شريكنا بيبسي في حفل الافتتاح لنهائي دوري أبطال أوروبا للاتحاد الأوروبي لكرة القدم للعام 2018 للسنة الثالثة على التوالي. أصبحت بيبسي مرادفة لجلب الموسيقى، والترفيه، والرياضة معا، ومن المؤكد أن حدث هذا العام سيكون مناسبة رائعة. نحن متحمسون للترحيب بدوا ليبا إلى كييف، حيث ستقدم للجماهير الأداء المثالي قبل لحظات من انطلاق المباراة النهائية في كرة القدم الأوروبية."
لمزيد من المعلومات، يرجى زيارة: https://www.facebook.com/ChampionsLeague والصفحات الرسمية لبيبسي على فيسبوك حول العالم. انضم إلى المحادثة على الإنترنت على: #LOVEITLIVEIT.
لمزيد من المعلومات، يرجى الاتصال:
Nicole.Tronolone@pepsico.com
نبذة حول شركة بيبسي كو
منتجات شركة بيبسي كو يتم الاستمتاع بها من قبل المستهلكين أكثر من مليار مرة يوميا في أكثر من 200 دولة ومنطقة حول العالم. وقد بلغت إيرادات شركة بيبسي كو الصافية أكثر من 63 مليار دولار في العام 2017، ولدتها محفظة أغذية ومشروبات مكملة تشمل فريتو لاي، غيتيريد، بيبسي كولا، كويكر، وتروبيكانا. وتتضمن محفظة منتجات بيبسي كولا طائفة واسعة من الأطعمة والمشروبات الممتعة المحببة في جميع أنحاء العالم التي تتضمن 22 ماركة تولد أكثر من مليار دولار تقريبا لكل منها  على هيئة مبيعات تجزئة سنوية.
وفي صلب شعار شركة بيبسي كو – اعتقادنا الأساسي أن نجاح شركتنا مرتبط بصورة لا تنفصم باستدامة العالم من حولنا. ونحن نعتقد أن التحسين المستمر لمنتجاتنا التي نبيع، والعمل بصورة مسؤولة لحماية كوكبنا وتمكين الناس حول العالم هو الذي يمكن بيبسي من إدارة شركة عالمية ناجحة حول العالم تخلق قيمة طويلة الأمد للمجتمع ومساهمينا. لمزيد من المعلومات، يرجى زيارة  www.pepsico.com
الصورة: https://mma.prnewswire.com/media/686556/PepsiCo_UEFA_Opening_Ceremony.jpg
الصورة: https://mma.prnewswire.com/media/686555/PepsiCo_Dua_Lipa.jpg